ENTRIES
Full Marathon - ENTRIES OPENING SOON!

42km Team Relay - ENTRIES OPENING SOON!
Leg One: 12.6km
Leg Two: 18.1km
Leg Three: 11.5km

The change over point for all members of the team is on Totara Drive, opposite house #167.

Late entries will not be accepted.

AGE LIMIT
The minimum age for full marathon participants is 18 years.

START TIME
0700

RACE REGISTRATION
Race registration will take place for most entrants at Hamilton Gardens on Friday 12 March 2021. One team member may pick up bibs for other members. If you are genuinely unable to be here on the Friday, we can issue your bib/s between 0530 and 0630 on event day, Saturday 13 March. Please treat this as a last resort option.

Exact location and timing will be advised closer to the event. Stay up-to-date with all event info at www.facebook.com/kirikiriroamarathon

REFUNDS & TRANSFERS
There will be no refunds or transfers. If the Race Director deems it unsafe to hold the event on the day, there is no reserve day and no fee refunds or transfers to the following year.

CUT OFF TIMES
Due to traffic management limitations, and use of volunteers at aid stations, we have two cut off times. If you arrive at either of these points taking longer than the stated times, you will be excluded from the event. In such case, you may continue to run/walk, but will not be shown as a finisher or receive a recorded time.
1. Horotiu turn-around (23km) - 3:45:00 elapsed time.
2. Grantham Street road crossing (39km) - 6:30:00

WALKERS
Marathon walkers are welcome, however the walking will not be policed. The purpose of this event is to encourage everyone to participate and finish, whether walking, running, or a combination of both.

WATER STATIONS
We have water stations located approximately every 5-7 km, please refer to the course map. There will be supplies of water and/or electrolytes.

CUPS
We do not provide drinking cups at aid stations, in order to reduce waste. Runners are strongly advised to carry their own drinking cup or bottle that they can use at aid stations for the selection of drinks.

We recommend you also carry water between aid stations. Optionally (but recommended) you should carry any gels or another form of calories with you between aid stations.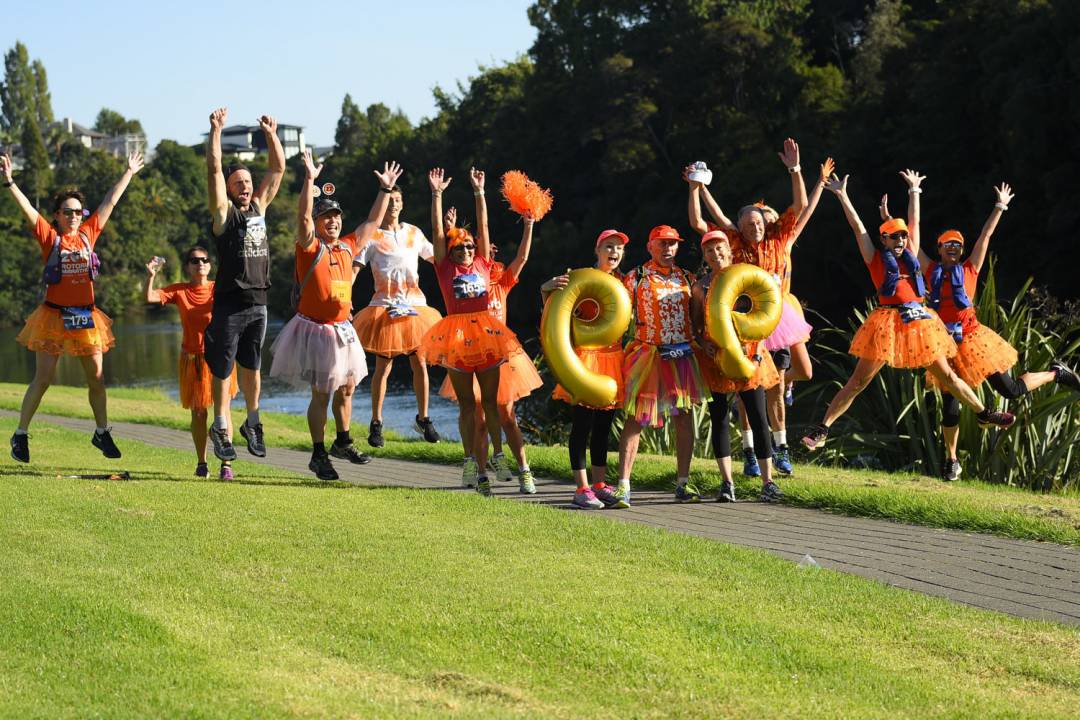 FINISHERS MEDAL
Every competitor who completes the marathon (including all relay team members) will receive a finisher's medal to recognise their hard work and achievement. First time marathon runners will have their medal engraved at the finish line to show the year, name and time. Other runners may have their medal engraved at modest cost. This service is provided by our sponsors, Davy Engravers.

PRIZE GIVING
The focus of this event is predominantly to encourage people to complete the marathon distance, particularly those who have not run a marathon previously. There will be no prize-giving, but there will be a social gathering after the event, at a venue/time to be confirmed.

TIMEKEEPING & RESULTS
Finish times will be provided by Timing Sports and published on both our website and theirs. Official timekeeping ends 7 hours after race start. Results will be posted on the website as soon as possible.

PARKING
Parking is available only via entry Gate One of the Hamilton Gardens. Please follow the instructions of our parking marshals. Please refer to location maps. Please give due consideration to local residents and other Hamilton Gardens visitors when parking.

ROAD CLOSURES
There are no road closures in place as the course predominantly follows the river trail. All roads are open to traffic AND NORMAL ROAD RULES MUST BE OBEYED. Please follow instructions of marshals when crossing Grantham Street & Pukete Road and watch for traffic at all times.

FOOT RACE & RULES
For safety reasons, all forms of wheeled conveyance (wheelchairs, baby buggies, roller blades, skate-boards, prams and the like) are not permitted to be used in the event. Also, dogs may not accompany runners or walkers.

HEADPHONES & EARBUDS
Listening to race instructions and being able to hear traffic sounds is crucial for a safe running event. The wearing of headphones, or similar devices, (other than those medically prescribed), is not permitted.
Subject to amendment without notice.